Expertise
We have the experience and knowledge to choose the right tools.
EMSA
The Electronic Messaging Staging Area (EMSA) is a configurable, rules-based software application developed to receive mandatory health reporting. It is part of our CasePointer public health suite.
EMSA processes reports and sends the results on to a disease surveillance system (DSS) in a form that the DSS can easily understand and use. It includes a robust rules engine that allows public health agencies to automate the receipt of and decisions surrounding electronic messages. EMSA's powerful automation saves time and money.
The mandated reporters of infectious diseases — labs, clinics, doctors' offices, hospitals, etc. — transmit messages that wend their way through the systems. At one time, messages from labs came in as faxes and required manual entry. In EMSA, approximately 95% or more of messages are handled automatically. Using EMSA, one state health department reduced its human labor required to ⅙ of what it had been.
Messages arrive in widely-used standard formats for reports mandated to be sent to health departments and the CDC. Each standard has its own conventions:
Health Level Seven (HL7) reports:
An international standard that can model data from the numerous different systems used by health care providers, so that data can be used by otherwise incompatible systems.

Electronic Case Reporting (eCR):
Used by doctors' offices to send in reports with codes for specific symptoms, diseases, etc. It is formatted in XML.

Comma Separated Values (CSV) files:
Some state health departments specify that health reporters must use a particular data format with fields in a documented order, separated by commas.
Once the messages are processed by EMSA, the results are expressed in XML (eXtensible Markup Language), a standard to send structured data between applications. To make an analogy, it is as if the messages arrive in several different human languages (e.g., German, Spanish, Chinese) and EMSA transforms them all into one human language (such as English).
The resultant XML is sent on to a disease surveillance system. Currently EMSA sends to the EpiTrax disease surveillance system. End Point Dev is working with EpiTrax Consortium partners to enhance EMSA to be able to send data to other disease surveillance systems.
EMSA is a cost-effective preprocessor that transforms these different data formats into one format a disease surveillance system can understand.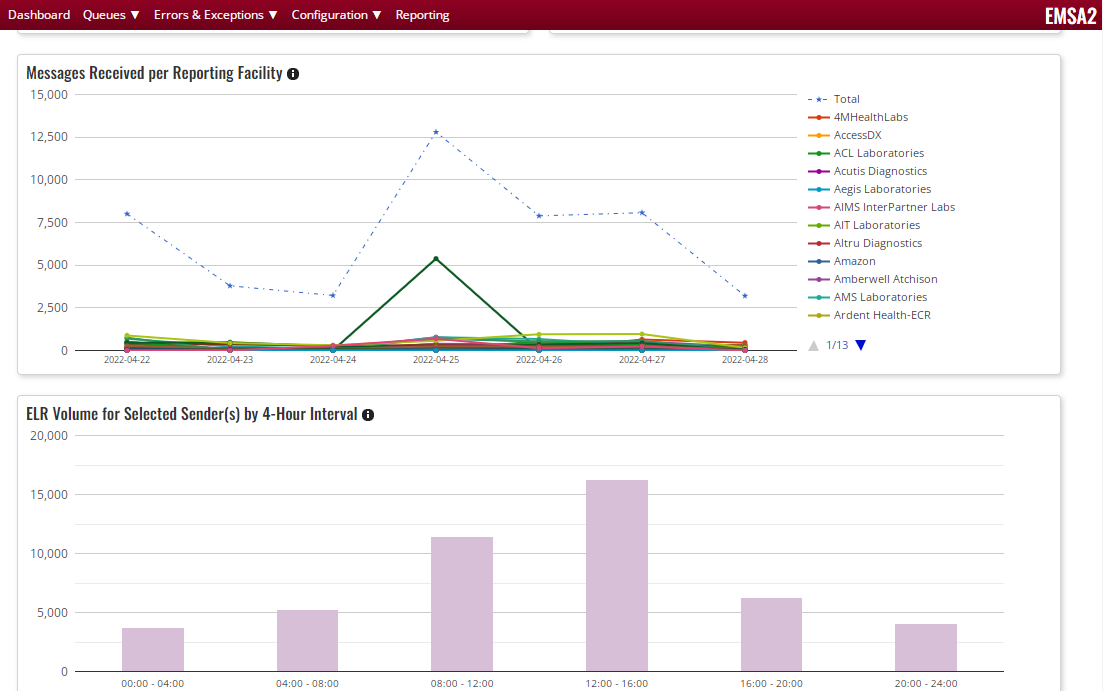 The Inner Workings of EMSA
The EMSA dashboard has helpful graphs to keep track of reporting (messages) coming in. It can show the volume of messages coming in during certain periods, even to exact hours during the day. This feature can help in making staffing decisions.
Queues. EMSA has queues for:
Entry. Messages may stop here if they are ambiguous, and a human needs to resolve the situation. One example is when the person's name is like another's name.
Out of State. Messages regarding people from another state can be set up to forward to that state.
Pending Queue. Messages containing duplicate people or duplicate events pause here so a human can decide how to handle it.
Semi-Auto. Allows the user to review messages and then tell the system to process them, according to the automation rules.
Gray List. For test reports that the health department may not be immediately interested in, or for receipt of negative test results that are not required in the surveillance system.
QA. Quality Assurance is for new reporters to make sure their messages follow the correct protocols before they can be configured for automatic processing.
Exceptions. EMSA keeps track of exceptions (errors) encountered during processing. For example, a report might be missing a collection date or LOINC (Logical Observation Identifiers Names and Codes) code. Views into exceptions include:
Bulk exceptions. All exceptions that may be grouped together to handle all at once.
Exceptions. Shows all exceptions.
Contact us to discuss how EMSA can help your organization!