How to Bring a Baby to a Tech Conference
Last week, I brought my 4 month old to RailsConf. In a game-day decision, rather than drag a two year old and husband along on the ~5 hour drive and send the dogs to boarding, we decided it would ultimately be easier on everyone (except maybe me) if I attended the conference with the baby, especially since a good amount of the conference would be live-streamed.

Daily morning photos at the conference.
While I was there, I was asked often how it was bringing a baby to a conference, so I decided to write a blog post. As with all parenting advice, the circumstances are a strong factor in how the experience turned out. RailsConf is a casual three-day multi-track tech conference with many breaks and social events—​it's as much about socialization as it is about technical know-how. This is not my first baby and not my first time at RailsConf, so I had some idea of what I might be getting into. Minus a few minor squeaks, baby Skardal was sleeping or sitting happily throughout the conference.
Here's what I [qualitatively] perceived to be the reaction of others attending the conference to baby Skardal: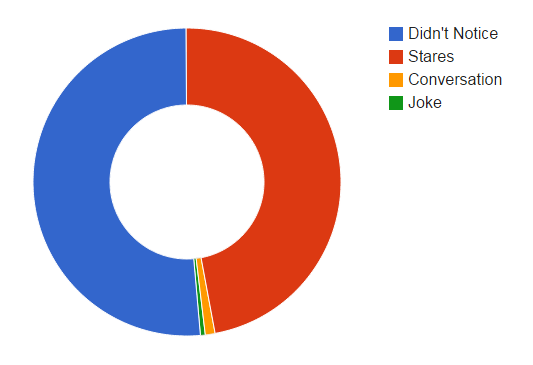 In list form:
Didn't Notice: Probably about 50% didn't notice I had a baby, especially when she was sleeping soundly in the carrier.
Stares: Around 50% may have stared. See below for more.
Joke: A really small percentage of people made some variation of the joke "Starting her early, eh?"
Conversation: An equally small percentage of people started a conversation with me, which often led to more technical talk.
Here are some reasons I imagined behind the staring:
That baby is very cute (I'm not biased at all!)
Shock
Wonder if day care is provided (No, it wasn't. But with a 4 month old who hasn't been in day care yet, I probably wouldn't have used it.)
Too hungover to politely not stare
Pros & Cons
And here is how I felt after the conference, regarding pros and cons on bringing the baby:
Pros


A baby is a good conversation starter, which is beneficial in a generally introverted crowd.
I realized there are helpful & nice people in the world who offered to help plenty of times.
The baby was happiest staying with me.

Cons


Because children were the focus of many conversations, I missed out on talking shop a bit.
It's tiring, but in the same way that all parenting is.
I couldn't participate in all of the social/evening activities of the conference.
Staring generally makes me feel uncomfortable.
Tips
And finally, some tips:
Plan ahead:

Review the sessions in advance and pick out ones you want to attend because you may not have time to do that on the fly.
Walk (or travel) the route from your hotel to the conference so you know how long it will take and if there will be challenges.

Be agile and adapt. Most parents are already probably doing this with a 4 month old.
Manage your expectations:

Expect the conference with a baby to be tiring & challenging at times.
Expect stares.
Expect you won't make it to every session you want, so make a point of talking to others to find out their favorite sessions.

If not provided, ask conference organizers for access to a nursing or stashing room.
Bring baby gear options: carrier, stroller, bouncy seat, etc.
Research food delivery options ahead of time.
Order foods that are easy to eat with one hand. Again, another skill parents of a 4 month old may have developed.
Sit or stand in the back of talks.
While in these circumstances I think we made the right decision, I look forward to attending more conferences sans-children.
---