Integration Experiences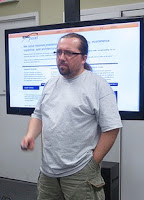 Szymon Guz gave a talk which covered his experiences working for a large client on integrating an acquired business' website and fulfillment processes into their existing backend and fulfillment systems.
He gave us a detailed overview of their existing shipping fulfillment infrastructure, along with specific technical issues he encountered when integrating with the fulfillment models of the additional website.
He also detailed some of the non-technical/project management challenges inherent when working with a large number of people on a project.
---